Hotels in Uzbekistan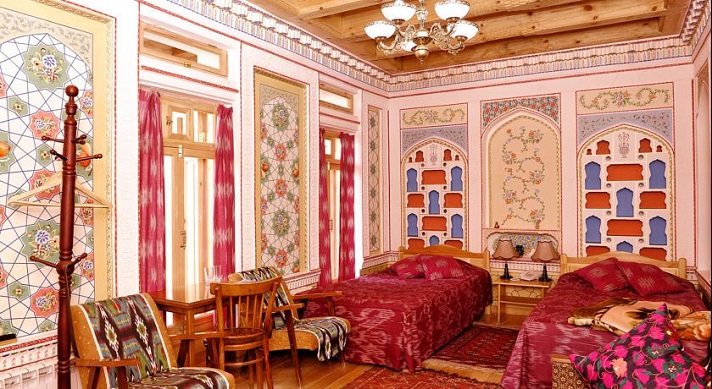 The most popular hotels in Uzbekistan are boutique hotels

Hotels in Uzbekistan

Discount Uzbekistan Hotel Reservations. Choose your hotel in Uzbekistan here!
Marakanda Travel offers you a wide variety of hotels and options for accommodation in Uzbekistan on reasonable prices, which can be booked for single stays, or in combination with other travel plans you may wish to book through us. Total number of hotels operating in the market of Uzbekistan is about five hundred, with a total quantity of rooms (more than 20 thousand seats). We can book hotels in Tashkent, Samarkand, Bukhara, Khiva, Fergana, Shakhrisabz and other cities of Uzbekistan. By using our services, you will gain an opportunity to book rooms in the hotels s in Uzbekistan. In our website you can find many hotels all over the country. There are four star and three star hotels in Uzbekistan, as well as a large number of boutique hotels and guest houses. The most popular hotels among the visitors in Uzbekistan are boutique hotels and small family guest houses on B & B, which organically combines oriental flavor and European comfort. Many popular hotels in Uzbekistan are located in the houses of last century with ancient architecture and planning, in which it is cool even in the extremely hot weather. All hotels are equipped with air conditioning and satellite TV. Most of the hotels in Uzbekistan offer internet and international communication.
Uzbek yurt camps /Camel riding in Uzbekistan



Yurt camps in Nurata.
We invite you to visit the Kazakh national yurts in the yurt camps located near to the city of Nurata.
Take pleasure in an unforgettable adventure during walks astride camels on desert, an one-day trip to lake Ajdarkul, an excellent fish dinner, a delightful steppe decline and bewitching songs local singer! Yurt camp are scattered in vicinities of Nurata and Aydarkul lake. Approximate distance from Tashkent of 500 km, from Samarkand of 250 km and from Bukhara - 250 km. Comfortable placing from 6 to 8 persons in each yurt gives unique possibility to see and learn a life of steppe nomads. Three meals a day consist of the dishes of the Kazakh and Uzbek kitchens prepared on the centre, and as salads and snack (including a fish dinner on Aydarkul lake). In each camp there is a WC and a shower. Spending the night cost in yurt camp includes three meals a day and walk on camels. The best season for visiting yurt camps in Nurat - from March till June and from August till October. For the organization of the trip which is equitable to all your interests, contact us.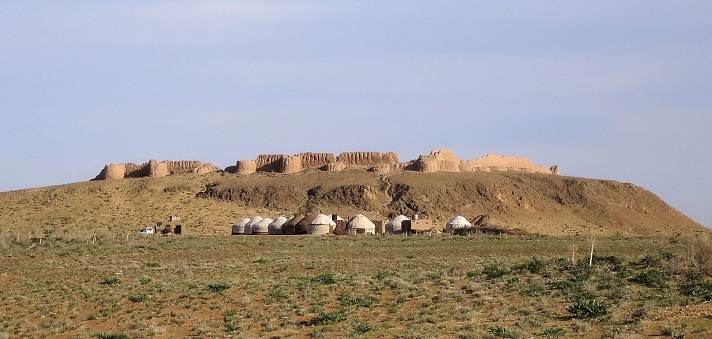 Yurt camps in Karakalpakistan.
Visiting and spending the night in a yurt are accessible to the tourists preferring an extreme and wishing to familiarize with a life of nomad tribes, to experience personally as essentially their life differs from a life in the conditions of modern comfort. Our driver delivers you to a place and will organize your stay in a yurt where you will meet as visitor. Residing cost on 2 persons is included by overnight in yurt, a breakfast and a supper. The yurt campings are in Elikkala district of Republic Karakalpakistan, on a picturesque steppe height, about ruins of ancient fortresses. Distance from Khiva - 100 km, from Urgench - 70 km, from Bukhara - 450 km, from Nukus - 150 km. The campings are located in a steppe zone, on a bosom of practically wild nature. Yurtas stand on a hill of 30-40 metre heights. The wind and consequently few flies and mosquitoes always blows. In each yurt can take places from 6 to 8 persons. The floor is dimmed by carpets and koshma (wool carpet). To everyone the mattress, a pillow, a warm blanket, bedding (sheets, a pillowcase, a towel) is allocated. There are showers, washed off bathrooms, kitchens. A food consists of the dishes of the Karakalpak and Uzbek kitchens prepared, and as salads and snack.
In camp territory trestle beds, one of which with a canopy, and two - without a canopy that gives the chance are located, laying in the warm evenings on a trestle bed to see the most beautiful steppe decline and stars. The camps accept tourists from March till November. You should have a pocket small lamp, as a small handbag for personal things. Temperature deviations are possible (warm days / cool nights

See also:
http://www.marakandatravel.com/hotels-en-ouzbekistan/yurte/index.html
http://www.marakandatravel.com/en/tours-to-uzbekistan/promotional-tours-uzbekistan/mth02/index.html
http://www.marakandatravel.com/en/tours-to-uzbekistan/classic-combined-tours-uzbekistan/mth10/index.html
http://www.marakandatravel.com/en/tours-to-uzbekistan/classic-combined-tours-uzbekistan/mthc11/index.html
http://www.marakandatravel.com/en/tours-to-uzbekistan/thematic-tours-uzbekistan/mthc17/index.html
http://www.marakandatravel.com/en/tours-to-uzbekistan/aral-sea-uzbek-villages/uzbekistan-rural-life/index.html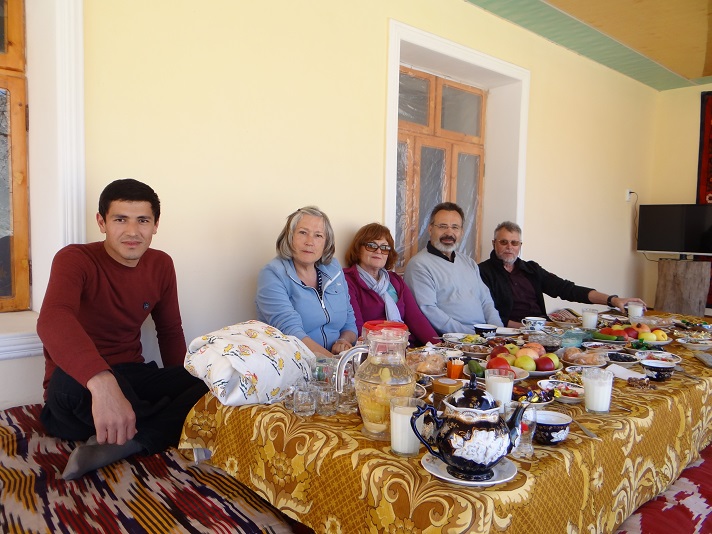 Village Guest houses in Uzbekistan / Rural tourism in Uzbekistan / Community based tourism in Uzbekistan. Villages in Uzbekistan

Throughout Uzbekistan there are not many places that would give guests the best chance to get acquainted with the everyday life of local people. After a thrilling day of hiking or riding horses, taking part in domestic work or traditional handicrafts, you can take a refreshing shower. In the warmer months you can sleep in the garden on the bed and fell asleep, admire the view of the Milky Way.

We offer your choice of guest houses in mountain villages:
Community Based Tourism will allow you to visit various families and even to live with people in their homes, in towns, villages and also in nomads yurts in the desert.
People, living in Uzbekistan are friendly and genuine, and the bringing in of travelers to visit and experience local families' houses is aimed at creative work, exchange of culture and traditions, and creating friendly relationships between travelers and local people. When such warm relations are established, the hearts of people are opened and they are prepared for any creative work. During hard times it is essential for all of us. Locals know every path in the mountains and can guide you on hikes to the waterfalls, mountain lakes, caves and to little-known places. Guests will be trained to ride horses, milk cows, mow grass by hand, knead dough, spin fibers, and many other practical skills, without which life in the villages is not possible.
Upon guests' wishes, the receiving family will accompany you to the forest to collect mushrooms, berries, nuts and herbs, and you will be offered tours to discover the culture, custom and lifestyle of the indigenous population, treated to national cuisine prepared from ecologically pure products.
To us, it is very important that rural tourism contributes to improving the living conditions of the receiving families. The participation of local inhabitants in tourism raises their interest and motivation in the preservation of custom and the environment. No one except the people living here can improve it. This kind of motivation is extremely important at the moment, as Nature worldwide is suffering from the impact of human civilization.
See also:
http://www.marakandatravel.com/hotels-en-ouzbekistan/guesthouses/index.html
http://www.marakandatravel.com/en/tours-to-uzbekistan/promotional-tours-uzbekistan/mth02/index.html
http://www.marakandatravel.com/en/tours-to-uzbekistan/classic-combined-tours-uzbekistan/mth10/index.html
http://www.marakandatravel.com/en/tours-to-uzbekistan/classic-combined-tours-uzbekistan/mthc11/index.html
http://www.marakandatravel.com/en/tours-to-uzbekistan/thematic-tours-uzbekistan/mthc17/index.html
http://www.marakandatravel.com/en/tours-to-uzbekistan/aral-sea-uzbek-villages/uzbekistan-rural-life/index.html